Minnesota: Students Speak Out Against War on Iraq
Minneapolis, MN -A two thousand-plus crowd of high school, college and even elementary school students gathered at the University of Minnesota student union, Nov. 2 to protest the war on Iraq and demand that military recruiters get out of their schools.
Speakers at the rally demanded that money be spent on education and jobs, not on war. Courtney Gallo of the Anti-War Organizing League (AWOL), one of the main groups organizing the rally, stressed, "The illegal U.S. occupation of Iraq was only part of a larger plan for domination and U.S. imperialism," and demanded that " U.S. troops be sent home immediately." The United States is spending hundreds of billions of dollars to destroy Iraqi cities and families, yet it will not provide an education to those living within its own borders.
The rally was followed by a militant march through campus. When students passed the General College building, they chanted, "Money for schools, not for war – save General College!" Last year the University of Minnesota Board of Regents voted to shut down General College, which provides access and education for low-income students and students of color. Outraged by the University's racism and elitism, the chants grew louder. The protesters were greeted warmly with waves and clapping from the College's windows.
The march also passed by the administration building, Morrill Hall. Here the students showed their solidarity with the AFSCME workers' unions by chanting, "What do we want? Fair contracts! When do we want it? Now!" The unions have been negotiating for months with the administration, which refuses to offer anything more than a 2% wage increase for the workers. Kelly Ryan of AFSCME 3800, the clerical workers' union, said, "We had to fight even for the administration to offer a 2% raise. We've suffered a two-year wage freeze, and many of us work second jobs just to get by. Meanwhile, President Bruininks makes over $300,000 a year. We demand fair wages and appreciate student support, because a united front will mean victory." Though the marchers intended to pass through Morrill Hall, they surrounded it instead, since the building was locked down.
The march ended at the Army Recruitment Center on Washington Avenue, where the students demanded that military recruiters get out of their schools.
Sabry Wazwaz of the Anti-War Committee said, "The Bush administration claims there will not be a draft. We know the truth – there already is. There is a racist draft, a poverty draft. We find these recruiters at schools in low-income communities, where lies and deceit trick innocent children into joining the military. We refuse to fall for their lies, and we are here today to spread the truth."
A massive presence of high school students gave inspiring energy to the protest, especially since many of these students knew they could be punished, even suspended by their schools for their decision to stand up for justice. Youth Against War and Racism brought out students from 40 city and suburban schools, with the largest presence coming from Minneapolis South High, where students walked out by the hundreds.
For all those who attended, this protest was an inspiring renewal of anti-war sentiment.
The majority of Americans are against this war, and we will be heard. The tide is turning. It is only a matter of time before it washes overshore.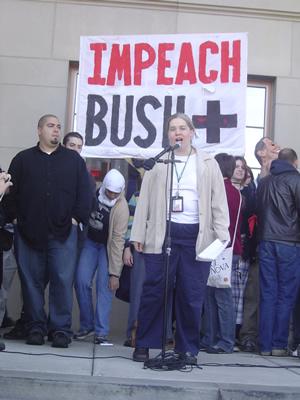 #MinneapolisMN #AntiwarMovement #Iraq #militaryRecruiters #AFSCME3800 #AntiWarOrganizingLeague #IraqWar #MiddleEast