Freedom Road Socialist Organization meets with Venezuelan Consulate, conveys solidarity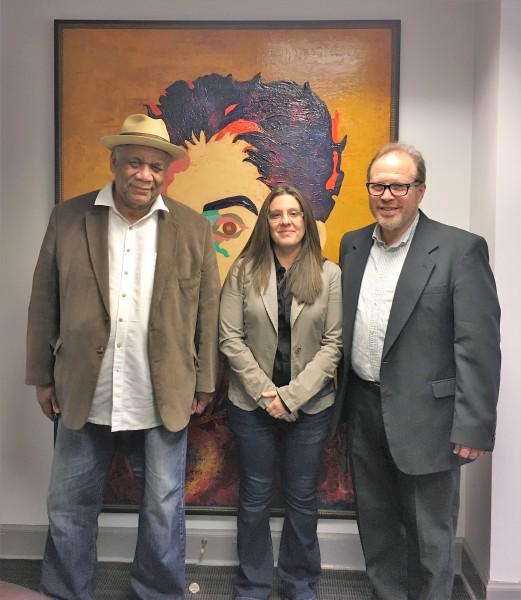 Chicago, IL – Representatives of Freedom Road Socialist Organization (FRSO) met this morning, August 8, with Maria Rincon, Consul General of the Bolivarian Republic of Venezuela.
Frank Chapman, FRSO Central Committee member, and Joe Iosbaker, a leading member in the Chicago FRSO district, reiterated the statement issued by the organization in the hours following the attempted assassination of Venezuelan President Nicolás Maduro. Comrades Chapman and Iosbaker also offered any assistance that the movement in the U.S. can provide to support the Bolivarian revolution, and to end U.S. Intervention in their internal affairs.
Rincon explained that the government of the Bolivarian Republic of Venezuela is demanding that two suspects who were involved in the attempted assassination who are living in the United States be returned to Venezuela for prosecution.
Rincon expressed her appreciation for FRSO's solidarity and said the FRSO statement will be published on the website of the Foreign Ministry of Venezuela. She also asked for FRSO's continuing support for their demands for an end to sanctions imposed by the U.S. government.
Rincon expressed her support for the struggle of people in this country for justice, especially for the rights of immigrants, and for Black people's struggle against police crimes. Chapman, who is also the Field Organizer for the Chicago Alliance Against Racist and Political Repression, updated her about the struggle for community control of the police in Chicago, a campaign which is at a critical point because of the crisis in Chicago since the exposure of the cover up of the murder of Laquan McDonald. Iosbaker, a steering committee member of the Alliance, related that it was at an event at the consulate in 2016 that Alderman Carlos Rosa first offered to sponsor the legislation for an elected civilian, police accountability council (CPAC).
#ChicagoIL #Venezuela #FreedomRoadSocialistOrganization #JoeIosbaker #frso #Socialism #NicolásMaduro #FrankChapman #Americas