20-foot tripod towers over Chase Bank as South Minneapolis demands negotiation
Minneapolis, MN – Community members marched through downtown here, Aug. 19, demanding JPMorgan Chase Bank negotiate with the Ceballos and Kelly families, both of whom face imminent eviction after foreclosure.
Supporters marched through two downtown skyscrapers; marching through Chase Bank lawyers' offices, releasing a balloon banner inside a JPMorgan Chase office and blocking streets surrounding Chase Bank for an hour with a 20-foot tripod suspending a supporter.
"Chase Bank illegally dual tracked us and sent 30 sheriffs to evict our family's home," said Jonathan Ceballos. "But nearly a month later, we're still there and we're not going anywhere. All we're asking for is a fair negotiation."
After illegally dual tracking the Ceballos family – moving forward with eviction even as they said they were negotiating – Chase Bank sent 30 sheriffs to evict them on July 24, arresting two people for nonviolent resistance. Supporters quickly removed the boards and three weeks later, the family still holds the home. But Chase refuses to negotiate with Ceballos or his neighbor Jaymie Kelly.
"I've lived in my home 30 years and on this block all my life," said Jaymie Kelly. "I've already paid $425,000 for this house – five times what I bought it for. I'm not asking for a bailout. I'm asking for principal reduction to market value of $81,000 so I can pay for it again."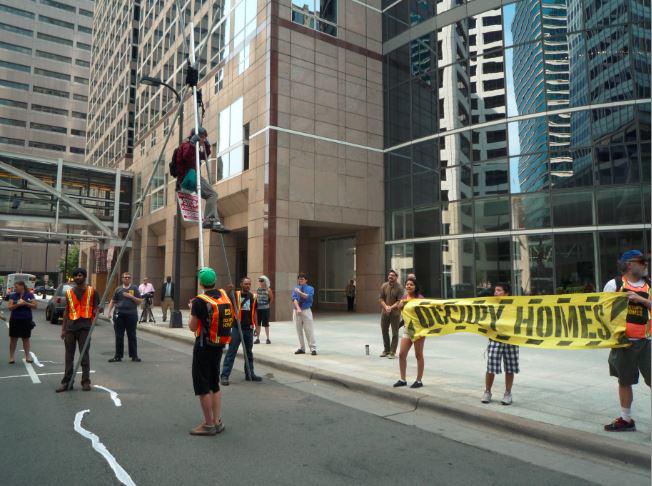 #Minneapolis #MinneapolisMN #Foreclosures #HousingStruggles #Ceballos #JPMorgan #ChaseBanks #Kelly #OccupyHousing