Protesters demand MN divest from Elbit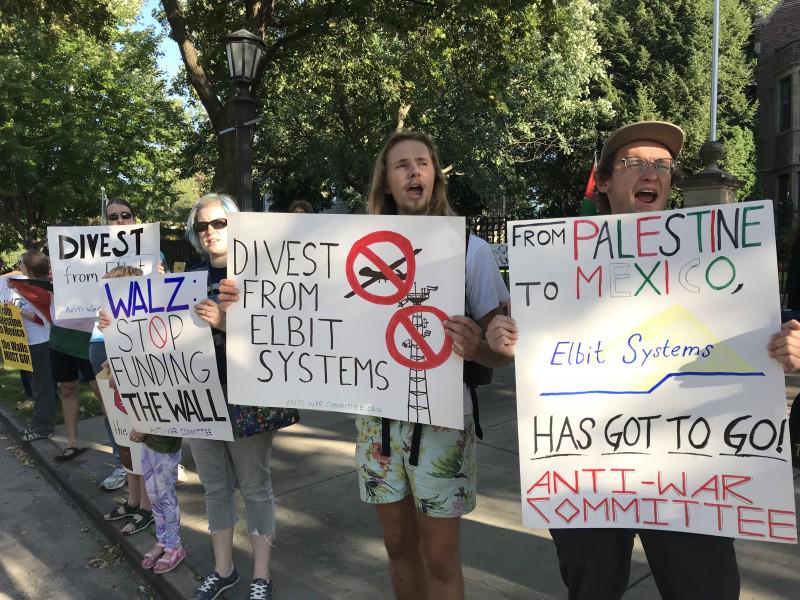 St. Paul, MN – "In 2017, the Trump administration awarded Elbit a contract to work on the expansion of the Mexico border wall. Elbit System's CEO has said that the company's current growth can be attributed to increased U.S. border spending," said Sarah Martin of Women Against Military Madness. "This last decade has seen the international community divesting from Elbit, including the Norwegian State Pension Fund, Danske Bank. Governor Walz, we Minnesotans refuse to continue to profit from pain, injustice and tragedy at the hands of Elbit. We want you to do what Norway and Denmark did. Divest now!"
Martin, who is also a retiree with a state pension funded in part by Elbit, spoke to over 40 people picketing in front of the Minnesota governor's mansion on August 29. The event was organized by the MN Anti-War Committee, in response to the recent State Board of Investment (SBI) meeting. Governor Walz is a member of the State Board of Investment.
Autumn Lake, an organizer with the MN Anti-War Committee explained to the crowd, "Last week, the Anti-War Committee and the Minnesota Immigrant Rights Action Committee delivered over 1000 petitions to Governor Walz and the rest of the Minnesota State Board of Investments urging them to discontinue Minnesota's investment in Elbit Systems. We were dismissed without discussion or acknowledgement of our concerns. These petitions reflected the will of the people of Minnesota, the people that these politicians supposedly serve, and yet the board has not acted accordingly. We in the Anti-War Committee have always maintained that funds should be used for human needs such as health care, education, and housing – not for war. The state of Minnesota's investments should also reflect these tenets for the sake both of Minnesota's retirees and the victims of imperialist aggression." She concluded with, "From Palestine to Mexico, Elbit Systems has got to go!"
Aadarsh Akulaa from Minnesota Immigrant Rights Action Committee also addressed the crowd, "Recently, the Trump administration awarded Elbit Systems an over $200 million contract to further militarize our southern border. So the Trump administration is clearly complicit, but it's not just the Trump administration – it's even the state of Minnesota. The Minnesota State Board of Investment has about 10,000 shares in Elbit Systems and this company is absolutely terrible. In fact, the reason why this company was actually hired in the first place is because they have a terrible track record or at least a good track record of militarizing borders and also doing terrible things for human rights. The Trump administration looked toward Elbit Systems' work in Palestine to make sure that that they were a 'good company.' Elbit is a 'good company' because in fact they disregarded human life. They don't stop at women and children even. They'll kill anyone because in the end all they care about is their bottom line."
The MN Anti-War Committee announced at the end of the protest their plans to keep up pressure on the State Board of Investment, including a picket outside the governor's mansion, 1006 Summit Ave., Saint Paul, at 5:30 p.m. on September 16. There will also be a BDS/border militarization teach-in and new members meeting at 4200 Cedar Ave, Mpls at 7 p.m. on September 25. In the meantime, the Anti-War Committee encourages supporters to contact the governor and State Attorney General Keith Ellison, who both sit on the SBI.
#StPaulMN #International #AntiwarMovement #ImmigrantRights #InJusticeSystem #OppressedNationalities #Palestine #US #MiddleEast #PeoplesStruggles #ChicanoLatino #AntiWarCommittee #BDS #Antiracism #PoliticalRepression #Antifascism #DonaldTrump #Elbit