U of Washington students rally in support of Farm Workers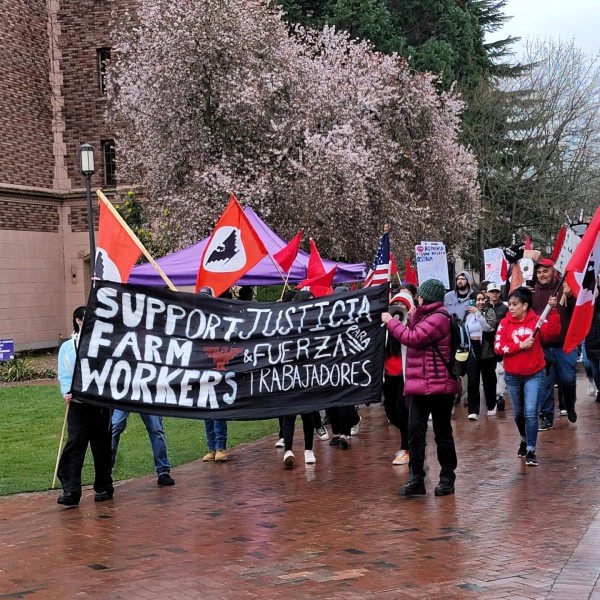 Seattle, WA – On Friday, March 31, Students for Farm Workers led a demonstration of more than 150 people starting from the steps of the Suzzallo Library in the middle of University of Washington-Seattle campus to the Husky Union Building.
Students for Farm Workers, SSFW, is a support group for United Farm Workers, fighting to stop the University of Washington from selling and serving mushrooms from Greenwood Mushrooms Farms in both grocery stores and dining halls. The farm, originally Ostrom Mushroom Farm, has been sued by the state for mistreatment of workers. Workers at the farm are fighting to unionize under the UFW.
Starting from Suzzallo Library, the crowd was already energized. They chanted, "Sí, se puede," and "What's disgusting? Union busting!" as they made their way to the Husky Union Building. Chicano organizers with the UFW organized a rally against the grape industry at the very same location in the 1960s. This march was a continuation of that legacy.
Isela Cabrera, a farmworker at Greenwood, said, "In the 90 days that we have had since the switch, we have only been allowed to take days off when we are assigned them. Every day, we are expected to harvest 50 pounds of mushrooms within an hour and that's not realistic." She added, "We say thank you to the young people who seem to have all the energy in the world to excel."
Adding to this energy, Mathieu Chabaud from the Progressive Student Union said, "We need them to keep on losing customers until they get the message, written in their ledger, that they cannot keep oppressing workers." Diana Paola Vergara from MEChA said "Their fight is not an easy one, but they're not alone – look at everyone that is here."
United Farm Workers is asking for Greenwood Mushrooms Sunnyside, formally Ostrom Mushroom Farms, to recognize the union that the majority of workers want and negotiate a contract for decent pay and decent working conditions.