Tampa to protest on May Day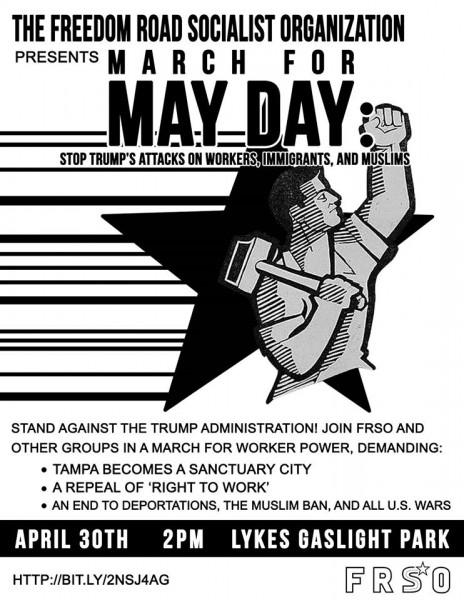 Tampa, FL – On April 30, the Freedom Road Socialist Organization and other organizations will come together to celebrate May Day, or International Workers Day. The protest will be at 2 p.m. in Lykes Gaslight Park in downtown Tampa.
Historically, May Day is in honor of the working class to commemorate the Haymarket affair, in which labor activists were attacked in a protest in 1886. In 2006, the Mega March for immigrant rights made May Day also a day to defend undocumented people. This is the first May Day under President Trump, who has supported and put into place policies that are anti-worker, anti-immigrant and anti-refugee.
For this protest, the demands include an end to right to work laws; no Muslim ban or registry; an end to deportations, and to make Tampa a sanctuary city.
#TampaFL #AntiwarMovement #Labor #MayDay #PeoplesStruggles #FreedomRoadSocialistOrganizationFRSO #Antiracism