NATO/G8 opponents denied right to protest by city of Chicago, vow to continue fight for freedom of assembly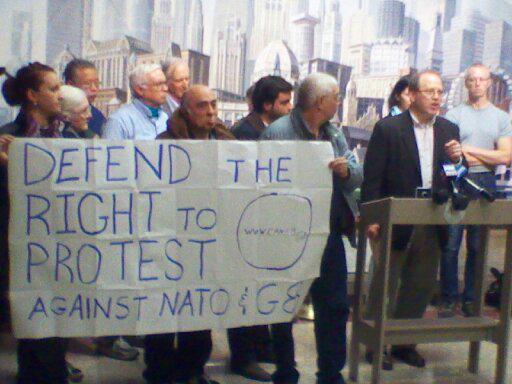 Chicago, IL – Mayor Rahm Emanuel has again refused to guarantee the First Amendment right to protest in Chicago.
Organizers from the Coalition Against NATO/G8 War & Poverty Agenda (CANG8) met with city officials on Nov. 16. They were there with a message that Pat Hunt of CANG8 said was simple, "that the city publicly commit to provide…permits that meet the internationally recognized standard for the right to assemble; that we be within sight and sound…" of the meeting of NATO and the G8 in May, 2012.
Hunt continued, insisting that "Police Superintendent McCarthy refrain from making threats of mass arrests." She was referring to the many times since July that Police Superintendent Garry McCarthy has announced in the press that Chicago's 13,000 police officers are being trained to repress dissent when the generals, bankers and heads of state convene here.
Representing the city were officials from the permit office of the Transportation Department and Commander Debra Kirby of the Chicago Police Department, the police department point person for the NATO/G8 summit.
Andy Thayer of CANG8 pointed out that the business group that is the host committee for the NATO/G8 summit has been given $1 million in taxpayer money to prepare for the event. The representatives of the city wouldn't even promise the activists that they would be permitted to gather in the Loop during the week of May 15-22, when the summit occurs.
In June when the summits were announced, a group affiliated with CANG8, the United National Anti-War Coalition (UNAC), submitted a permit application for Daley Plaza, one of the few large venues for protest in the Loop, as Chicago's downtown is known. Last week, MB Real Estate emailed Joe Iosbaker, Chicago spokesperson for UNAC that, "Unfortunately we are not approving any permits for the use of the plaza May 15th-22nd."
Iosbaker responded that, "We have the right to march against NATO's wars, such as Afghanistan and Libya, and against the G8 agenda of imposing poverty on working people from Greece to Chicago."
Joining CANG8 were speakers from the National Lawyers Guild, SEIU Local 73, the American Friends Service Committee and Pat Hill of the African American Police League. All committed to keep the pressure on the city for permits and to organize to bring tens of thousands of Chicagoans and others from around the country to march on May 15 and 19.
Iosbaker reminded everyone gathered, "Our front banner will read: 'Jobs, Housing, Healthcare, Education, Pensions, the Environment, Not War'. This is what the 99% are going to march for."
#ChicagoIL #AntiwarMovement #NATO #UNAC #G8 #NATOG8Summit #MayorRahmEmmanuel #CANG8 #UnitedNationalAntiWarCoalition