MN says, 'Aid yes, debt no!' at Puerto Rico solidarity protest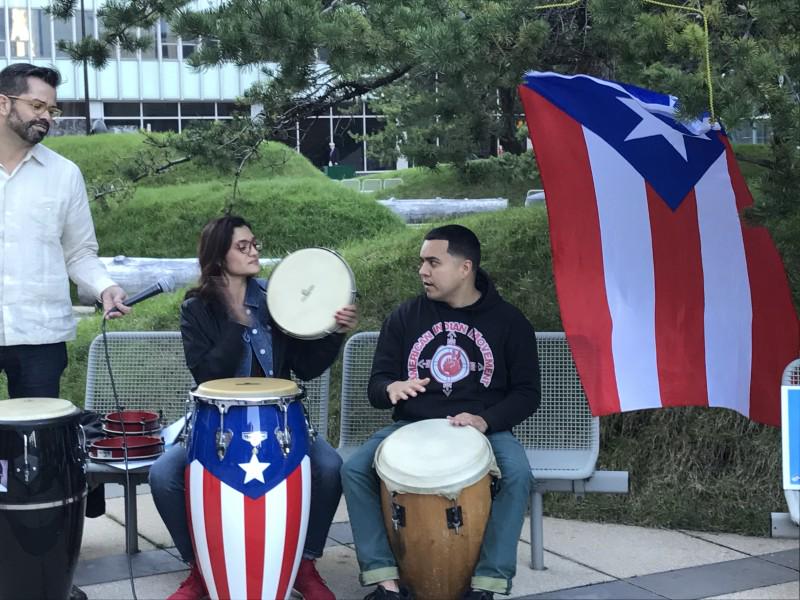 Minneapolis, MN – Puerto Ricans in Minnesota whose families are suffering on the island after Hurricane Maria organized rally on Oct. 4 to demand immediate and sufficient aid to relieve and rebuild Puerto Rico. The 50 person rally was part of a day of action in several cities across the country to highlight the plight of 3.4 million U.S. citizens in Puerto Rico who have no electricity or drinking water, face shortages in fuel and food, and who are dealing with severely destroyed telecommunications.
The Coalición de Boricuas en Minnesota, in coordination with VAMOS4PR – a national coalition of community, labor and civil rights organizations fighting for an economy fair for all Puerto Ricans – organized the rally. Their statement said, "It's immoral to insist that before Puerto Rican families can rebuild their homes, their hospitals, their schools and their roads, they must first pay back the banks."
The devastating damage that Hurricane Maria brought to Puerto Rico has come on top of the storm caused by the public debt crisis and the recession that has made Puerto Rican families suffer for decades by cutting vital funds from the commonwealth's infrastructure and leaving the fragile island especially vulnerable to hurricanes like Maria.
Speakers specifically called on Minnesota investors like Varde Partners and Whitebox Advisors to cease their fight to profit off the misery of Puerto Ricans.
Olivia Levins Holden, a Minneapolis-based Puerto Rican artist, spoke to the crowd of protesters: "I'm feeling this rage, fear, deep sadness, as I have to varying degrees my entire life when I see the harmed caused by our status. But I am not hopeless. And I'm not confused. Puerto Rico has the right to life, health, sovereignty, and our colonial status is a direct violation of that right, one that has caused and continues to cause a great deal of harm. We know that harm. I won't go into a litany of historical crimes of colonization.
"Needless to say, it is not Puerto Rico who owes a debt to the U.S., but the U.S. that owes a massive reparation to Puerto Rico's people, land and creatures. These reparations are much more vast than our immediate need, but that need is urgent.
"To start – we demand the immediate distribution of aid to those who desperately need it across the island. We demand the permanent abolition of the Jones Act, which serves to further sever Puerto Pico from the possibility of building relationship and solidarity, and any measure of autonomy. We demand aid in building and recovery. We demand the cancellation of this false debt and of the Junta Fiscal. These are essential and we will not back down," Levins Holden continued.
This protest follows up on the new coalition's press conference at the Minnesota State Capitol Oct. 2 and an effort to fundraise supplies to send to Puerto Rico. For future protests, supporters can follow the Coalición de Boricuas en Minnesota on Facebook.
Puerto Rico is a U.S. colony that has waged a long struggle for independence.