Minneapolis changes Columbus Day to Indigenous People's Day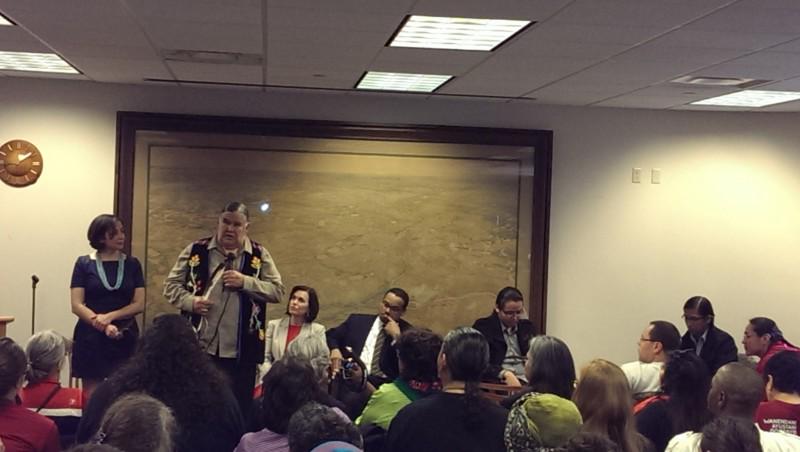 Minneapolis, MN – With Native American activists and other supporters of social justice packing City Hall, the Minneapolis City Council voted unanimously on Friday, April 25 to change Columbus Day to Indigenous People's Day. Minneapolis is the first city in Minnesota to do so, while Red Wing is about to vote on a similar resolution.
The Minneapolis resolution recognizes "the annexation of Dakota homelands for the building of our city" and says, "Indigenous Peoples Day shall be used to reflect upon the ongoing struggles of Indigenous people on this land, and to celebrate the thriving culture and value that Dakota, Ojibwe, and other Indigenous nations add to our city."
The resolution is largely symbolic, with the name of the holiday changing on official Minneapolis communications from Columbus Day to Indigenous People's Day. But its symbolic nature does not negate its importance. Native organizations such as the American Indian Movement (AIM) and many others have pushed for such changes for decades to recognize the genocide carried out against Native peoples throughout the Americas and resistance to that genocide.
The resolution notes that the idea of Indigenous Peoples Day was first proposed in 1977 by a delegation of Native nations to the United Nations-sponsored International Conference on Discrimination Against Indigenous Populations in the Americas. In 1990 representatives from 120 Indigenous nations at the First Continental Conference on 500 Years of Indian Resistance unanimously passed a resolution to transform Columbus Day into an occasion to strengthen the process of continental unity and struggle towards liberation, and thereby use the occasion to reveal a more accurate historical record.
Newly elected Ninth Ward City Councilperson Alondra Cano spearheaded the resolution. See the full resolution here.
#MinneapolisMN #IndigenousPeoples #MinneapolisCityCouncil #IndigenousPeoplesDay #ColumbusDay