Militant Teamster reformers come close to beating Hoffa, make historic gains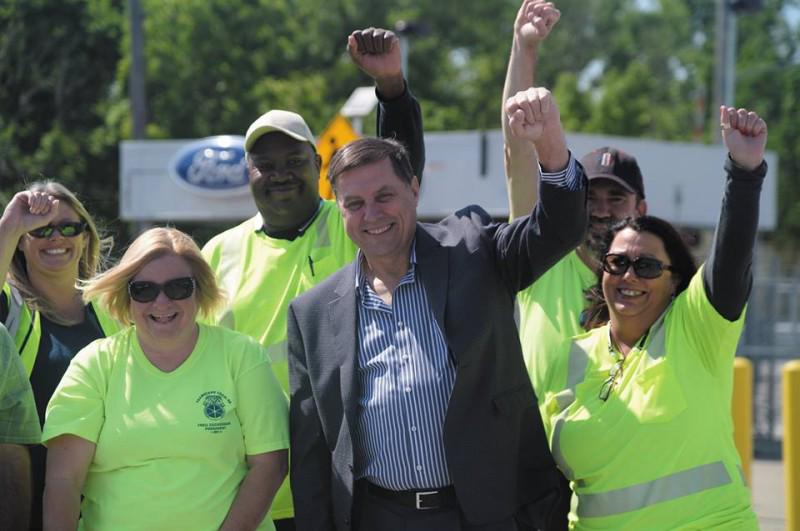 Jacksonville, FL – On Nov. 18, Teamsters in the U.S. and Canada awoke to find that Jim Hoffa had won re-election as president of the International Brotherhood of the Teamsters after 17 years in office. Instead of the overwhelming electoral victory that Hoffa usually experiences, the Teamsters old guard lost in the Southern Region, the Central Region, the U.S. as a whole, and only barely squeaked by in the International vote.
Teamsters United, the reform slate running against Hoffa, won six vice president spots to split the executive board for the first time since Hoffa has taken office. Led by Louisville Local 89 President Fred Zuckerman, Teamsters United faced an uphill battle from the jump. The vast majority of local leaders around the country urged their members to vote Hoffa. This was demonstrated in the National Teamsters Convention last June where Hoffa's delegates numbered over 90%. These delegates are almost always local union officers. When the vote went to the members, however, he only won 51.5%.
On the other hand, Teamsters United had a committed group of enthusiastic activists and a union full of "pissed off Teamsters." Members who had enough of Hoffa's concessions during his time as general president found a way to put their frustrations into action. Uniting the two opposition slates from the previous election, the reform slate entered the election with commitments to stop the wave of concessions, put a firm stop to corruption, and organize new workers in the core industries.
While local union officers used their steward structures and Hoffa's top lieutenants did 20-minute photo ops, Teamster United's army of campaigners set up a strong organizations in traditional Hoffa strongholds like Chicago, New York, Florida, Ohio, Los Angeles, and countless other areas. These campaigners used vacations, personal days, break periods and weekends to inform members that they had an opportunity to elect Teamster leaders who wanted to fight the employers just as much as they did.
As the ballot count came in, it was anybody's race, with Hoffa taking an early lead by winning the Eastern Region and Teamsters United taking back the lead until the last few hours. Although Hoffa remains in power for now, this was a massive victory for militants in the Teamsters in particular as well as all who believe the labor movement needs to return to real class struggle instead of constant concessions to employers.
John Palmer, one the vice presidents elected from the Southern Region said, "Teamsters in the South sent a clear message that they want change. As a vice president, I'll make sure their demand for a stronger union is heard."
Both Teamster employers and old guard officials are becoming terrified of an increasingly strong rank-and-file militant movement that has now split up the rubber-stamp executive board. On top of that, both Fred Zuckerman and Teamsters for a Democratic Union have made public commitments to stay united going forward into future elections and contract campaigns, especially the upcoming 2018 UPS contract. Local activists have followed suit and formed local organizations where none existed before.
Several top Hoffa vice presidents and officials are looking forward to corruption charges from the federal government. Two of the most high-profile cases involve Western Region Vice President Rome Aloise, who is accused of taking gifts from employers in exchange for contract concessions and Secretary Treasurer Ken Hall, who is accused of withholding information from the government's investigation. The future of many old-guard Teamster officials is looking more and more uncertain.
One thing's for sure, it's that the Hoffa machine is dead and Teamsters United killed it.
#JacksonvilleFL #Teamsters #JimmyHoffaJr #FredZuckerman #TeamstersUnited