Los Angeles: Students, parents and teachers hit the streets to protest ICE raids and military recruiters
Los Angeles, CA – Students, teachers and parents demonstrated here with Latinos Against War on March 20, the fifth anniversary of the invasion of Iraq, marching from Roosevelt High School to the building that houses a military recruiting center and the Eastside Immigration and Customs Enforcement (ICE) center.
The militant protest hit the largest recruitment center in Los Angeles, which targets young Latinos in the East Los Angeles high schools.
Protesters also slammed the ICE raids and deportations, demanding full legalization for the 12 million immigrants. They also protested the increase in repression against Mexican, Chicano and Latinos communities, by ICE, which targets workplaces and engages in home raids.
The march and rally built support for the planned May 1 march for legalization, against ICE repression and opposing the war in Iraq. The march and rally will take place in downtown Los Angeles.
Latinos Against War organizers note they have organized a protest on the anniversary of the Iraq war for the last five years in Boyle Heights with the firm aim of building local grassroots movements for self-determination and against repression.
The march and rally was organized by Latinos Against War and Chicano Club El Sereno Middle School and supported by Mecha de RHS, American Friends Service Committee, International Action Center, Students for a Democratic Society-UCLA, SEIU 721 Latino Committee, May Day Unity Coalition and Padres Unidos de Boyle Heights.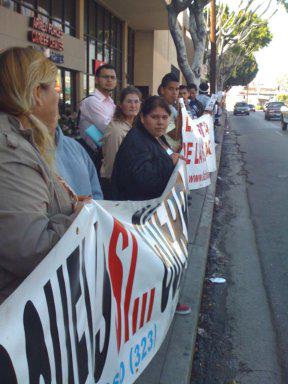 #LosAngelesCA #AntiwarMovement #StudentMovement #News #Iraq #ChicanoLatino #militaryRecruitment #selfdetermination #LatinosAgainstWar #workplaceAndHomeRaids