Denver demands justice for Tyre Nichols, Jordan Waddy and all victims of police crimes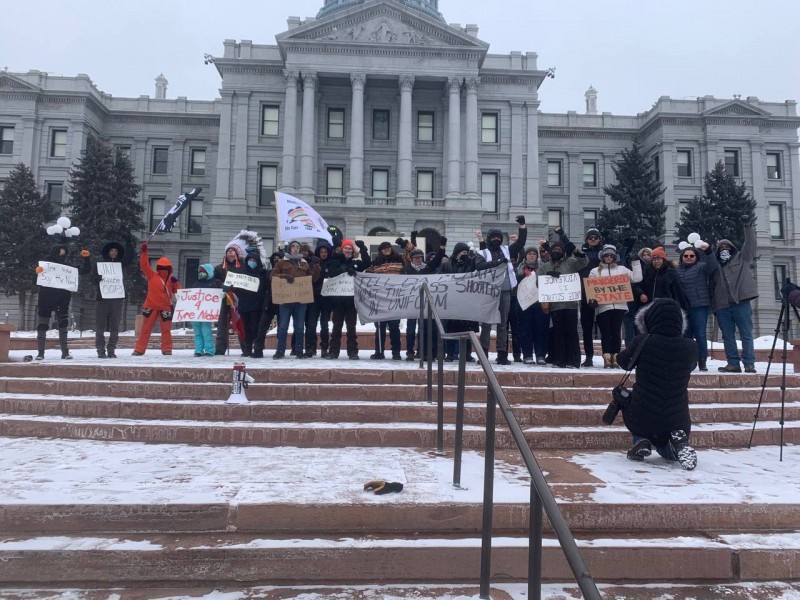 Denver, CO – A small but strong crowd gathered in the freezing snow on January 29 to protest the brutal murder of Tyre Nichols by Memphis, Tennessee police. Activists and community members at the Colorado State Capitol building chanted "Black lives matter" and "No justice, no peace!" as snow fell steadily throughout the early afternoon and wind chill felt well below zero. This did not deter folks from standing in solidarity with the people of Memphis, the family of Tyre Nichols, and other victims of police brutality.
"We still have a fire burning within us," remarked Jonce Palmer, chair of the Denver-Aurora Community Action Committee.
Tyre Nichols, 29, was beaten and tased by five Memphis officers on January 7, after a traffic stop and died of his wounds. Bodycam and HALO footage released on January 27 shows the young Black man being bashed so severely he was unable to speak. The footage sparked outrage across the country and protests and calls for police accountability across the United States.
Protest organizers recalled police murders that occurred around the country in January 2023 alone, including that of Keenan Anderson in Los Angeles and Manuel "Tortuguita" Paez Teran outside Atlanta. Jonce Palmer of the Denver-Aurora Community Action Committee (DACAC) said to the crowd, "Law enforcement killed at least 1176 people, or about 100 people a month, last year, making 2022 the deadliest year for police violence on record. 2023 is well on its way to breaking that bloody record."
DACAC was joined by other groups dedicated to combating racist discrimination, including Students for a Democratic Society, Freedom Road Socialist Organization, and Denver Justice Project.
Alexander Landau, co-founder of the Denver Justice Project, related his experience with racist police brutality, sharing that, when he watched the footage of Tyre Nichols, he couldn't help but think back to his experience being pulled over and beaten by Denver police officers in 2009: "At the end of the day, my life matters, your life matters and Tyre's life matters. The memory of this young man will not be in vain!" Landau declared.
Violence against Black people in Denver has not stopped. On July 17, three Denver officers fired their weapons into a crowd of people in an attempt to kill Jordan Waddy, a 21-year-old Black man, who held his hands in the air after throwing away his weapon. Waddy and six other people were injured in the mass shooting. One officer, Brandon Ramos, has been indicted by a grand jury, while two officers remain without charges.
Jordan Waddy remains on the hook for this mass shooting by the district attorney despite being the survivor of a police crime. Denver DA Beth McCann indicted him on charges that could put him in prison for up to ten years.
The Denver-Aurora Community Action Committee has launched a petition containing demands for police accountability in Denver, accessible at tinyurl.com/freewaddy. DACAC will continue the fight for community control of the police by uniting Denver and Aurora to fight against police crime.
#DenverCO #PoliceBrutality #StopPoliceCrimes #jailKillerCops