Tallahassee hosts Tampa 5 speaking tour and benefit concert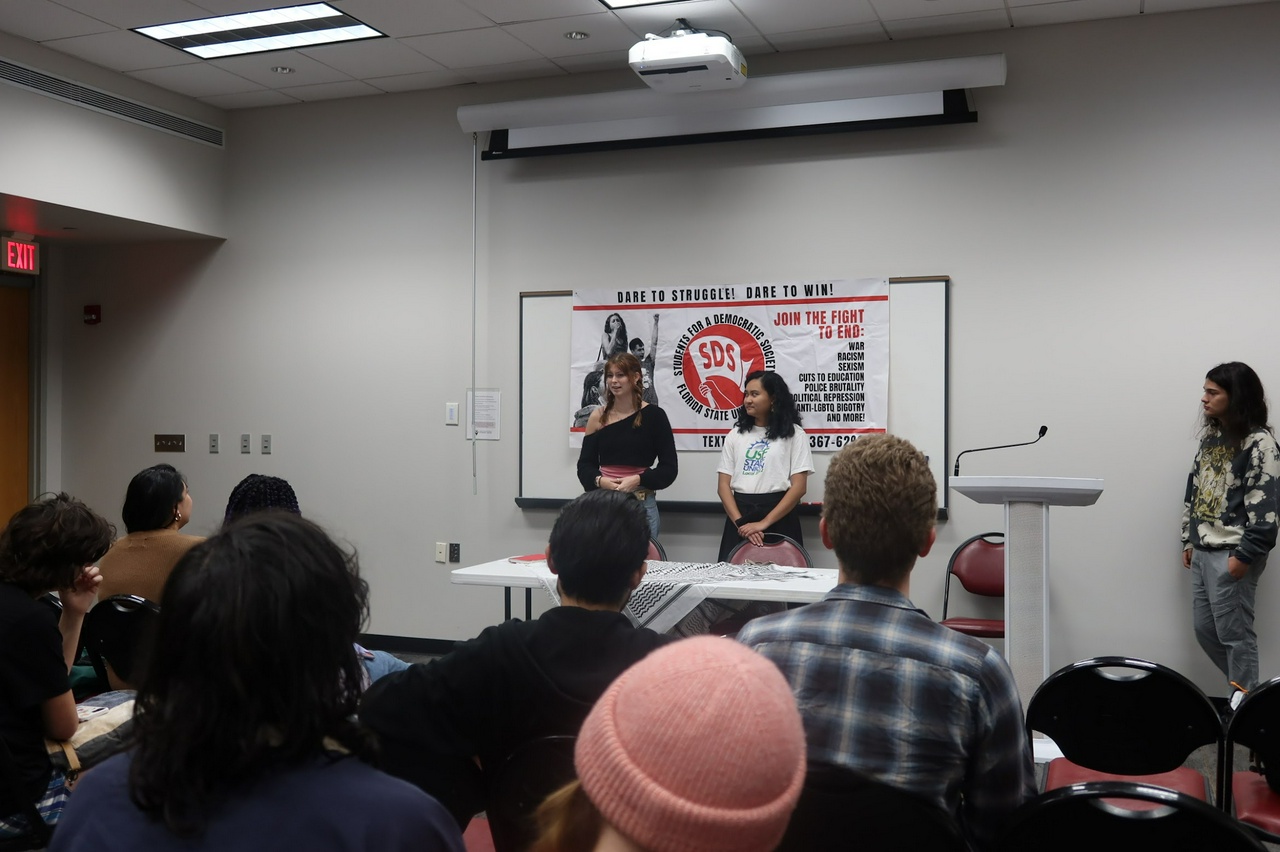 Tallahassee, FL – On November 17, Chrisley Carpio and Gia Davila continued their nationwide speaking tour with a stop in Tallahassee, Florida. On this tour, the Tampa 5 have visited 25 cities in 16 different states to raise awareness about their story – they were arrested for protesting Florida Governor Ron DeSantis' racist attacks on public education and are currently facing multiple felony charges and up to ten years in prison.
Florida State University Students for a Democratic Society (FSU SDS) hosted both events the Tampa 5 appeared at: a panel for Friday evening, and a benefit concert for Saturday evening.
At Friday's panel, Carpio and Davila gave an overview of their case and defense campaign to a room of 25 students and community members. Carpio stated, "The cops and the state are trying to intimidate us into staying silent – we went on a national speaking tour instead. We're organizing harder than ever. We won't let this political repression suppress our movements."
Carpio and Davila also made an appearance at Saturday's benefit concert held at Square Mug Cafe, a local coffee shop. Performances were put on by local bands Degenerate State, Mourning Station, Killer Choice, and NPC Luv. Tallahassee Food Not Bombs provided baked goods to raise funds for the Tampa 5's case.
Hector Rhoads, drummer for Killer Choice, expressed his respect for the Tampa 5's continued activism, stating, "It's inspiring that they've raised their voices in response to being arrested, it shows they really stand for what they are talking about and aren't scared to double down against Governor DeSantis' authoritarianism."
Delilah Pierre, lead singer for Degenerate State and president of the Tallahassee Community Action Committee, closed out the show with the following: "A victory for the Tampa 5 would be a victory for the entire peoples movement. It would set the precedent for activists and organizers across the nation, but especially in the South, that they have the right to protest and resist bigoted and unjust laws."
The Tampa 5's next court date is December 12. They're encouraging people to mobilize to Tampa on their trial date or hold solidarity actions across the nation throughout the week.
Follow @justiceforthetampa5 on Instagram for updates.
#TallahasseeFL #InJusticeSystem #PoliticalRepression #Tampa5 #StudentMovement #SDS