SDS Holds 4th National Convention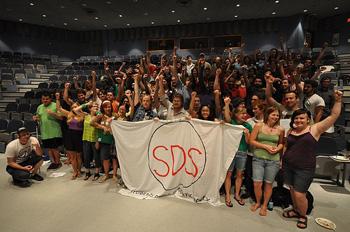 Murfreesboro, TN – Students for a Democratic Society (SDS) held its fourth annual national convention here, July 11 -12, bringing together around 100 students and youth activists from across the country.
The new SDS was formed in 2006 and since then has grown to over 100 chapters. This past year SDS has organized students around many issues, including education rights, labor solidarity and against the wars in the Middle East.
This convention consisted of workshops, discussions and meetings that covered topics ranging from direct action and civil disobedience, to Colombia solidarity and G20 resistance. The convention body also passed a proposal to have a national day of action on Oct. 7 to protest the eights anniversary of the U.S. war on Afghanistan.
Participants also decided to send a statement of solidarity to the Quad City Die Casting workers, who the day before the convention held a dramatic action at Wells Fargo bank in Rock Island, Illinois.
"It was great meeting so many amazing activists, both 'veteran' SDS members who have been organizing for years and students who are in the process of starting a chapter," said Ryan Costello from Tuscaloosa, Alabama. "I am excited about starting organizing on my campus in the fall and proud to be involved in an organization that is playing such a leading role in the student movement, that is making history."