Protest says MN State #AintFair for those murdered by the police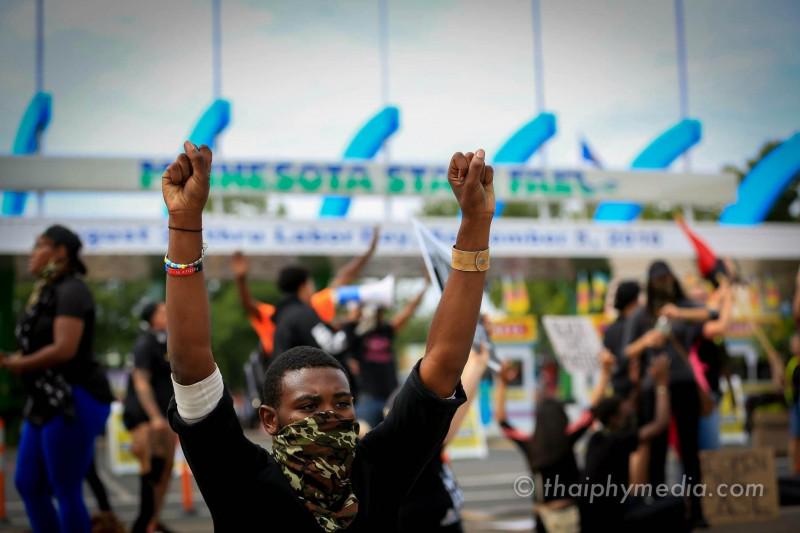 Falcon Heights, MN – On Sept. 3, as the family was in Saint Louis to lay Philando Castile to rest, community members gathered at the site where Officer Jeronimo Yanez violently ended Castile's life. More than 50 people marched to the front gates of the State Fair here, to call attention to the police killings that they say target especially, but not solely, Black people and other people of color. For several hours, thousands of fairgoers had to navigate miles of blocked roads, while protesters demanded justice, carrying 14 coffins, distributing informational flyers and chanting about the police murder of Castile and countless others.
Reflecting the epidemic of police killings across the U.S., Minnesota law enforcement officers have killed 238 people since 2000. Not one officer, in the history of the state of Minnesota, has ever been convicted of a work-related homicide.
"That #AintFair," organizers say. "We want justice for all stolen lives. We want justice for Philando Castile and Jamar Clark, whose names made international news, as well as those who stories were never told. Their lives matter. Their families matter. We will not forget the recent police homicides of Geno Smith, Map Kong, and Jaffort Smith. We continue to demand justice for Marcus Golden and Fong Lee, both unarmed, Guillermo Canas, Philip Quinn, Michael Kirvelay, Terrance Franklin, Quincy Smith as well as other local and out-of-state police homicide victims such as Alton Sterling, Paul Castaway and Oscar Grant, Yes, we will #SayHerName: Korryn Gaines, Aiyana Jones, Sarah Lee Circle Bear, Sandra Bland and Rekia Boyd to name a few. If we didn't, that would be not be fair."
The event was organized by the Twin Cities Coalition for Justices 4 Jamar, Justice for Marcus Golden, the Black Coalition and AR-14 for Justice, and more than a dozen other groups endorsed the action.
#FalconHeightsMn #FalconHeightsMN #PoliceBrutality #JamarClark #PhilandoCastile #StateFair #JusticeForMarcusGolden #BlackCoalition #AR14ForJustice