North Carolina: Hundreds Join 'State of Emergency' Rally Against Budget Cuts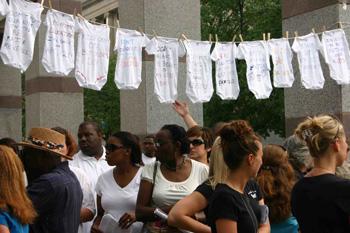 Raleigh, NC – "We're in the middle of an historic crisis," the president of the North Carolina Public Sector Workers Union (UE 150), Angaza Laughinghouse, told Fight Back!. "It requires a historic response from unions, youth groups, faith groups and community organizations to develop the fight back."
That sentiment is what brought an important mobilization of over 160 community, labor, faith, and political organizations to the state capital on June 15. 300 workers and community members gathered after work to rally on Jones Street before marching into the North Carolina General Assembly to talk to legislators about the budget cuts.
The message, says Jeff Shaw from the North Carolina Justice Center, is simple: "We cannot balance the budget on the backs of the poor. Low-income and minority communities suffer the most in an economic crisis. And budget cuts in times like this will only make things worse."
"Morally and economically," Shaw added, "the right thing to do is invest in our community."
Reverend Barber, the president of North Carolina's NAACP, agreed. In a powerful speech at the rally, Barber emphasized, "We need to move from talking about tax cuts and tax raises, to a discussion about investing in children, care for the sick, protecting the mentally ill and supporting workers."
The rally was organized by Together NC and the Historic Thousands on Jones St (HKonJ) Network, two coalitions that are uniting a broad spectrum of organizations, communities and social classes to oppose the budget cuts that will impact workers and oppressed nationalities. North Carolina currently faces a $4.6 billion budget shortfall. Instead of taxing corporations and the wealthy to raise additional revenue, the House is cutting funding from social services and laying off workers.
Public sector workers face layoffs, pay cuts and furloughs. Insurance premiums are going up and some workers are losing their 401k and pension contributions. In addition, the university system's budget is being cut by 11%. The Department of Health and Human Services is slated for 465 layoffs under the current budget.
Angaza Laughinghouse emphasized that the way out is for workers to organize their communities to raise pressure on the legislators, with a strong message: "We need to tax corporations and the wealthy and make a budget for working people."
In the coming weeks, organizers with Together NC and HKonJ will be holding town hall meetings around the state and engaging in communities to gather input on the budget process. Organizers are excited with the turnout and enthusiasm among the participants of June 15's rally and will continue to struggle for a budget – and a budget process – that serves the majority of North Carolina's people, not the wealthy and the corporations.
#RaleighNC #CapitalismAndEconomy #News #BudgetCrisis #capitalistCrisis