HK on J Protest Draws Thousands
'Don't balance the budget on the backs of the poor!'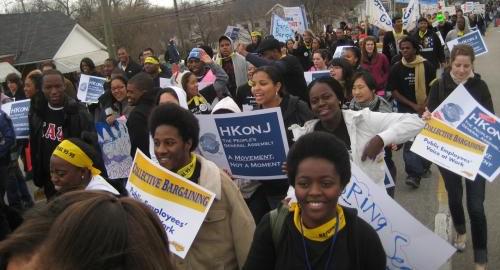 Raleigh, NC – Over 4000 people, the majority African American, marched in downtown Raleigh, Feb. 14, in a show of force organized by the North Carolina NAACP. This is the third year that "HK on J" (Historic Thousands on Jones Street) has taken place, bringing together over 85 grassroots organizations, trade unions, coalitions and churches around a 14-point program for change. The 14-point program is centered around addressing the needs of the African American community, low-income people, immigrants rights and ending the war.
"We are gathering to continue to remind our state legislators and other elected officials that our 14-point agenda and more than 80 action items are still relevant. The people of this state who turned out in record numbers to vote last November want to see real change," said North Carolina NAACP President Dr. William Barber. "And further, we are coming to further say, in the midst of this current financial crisis, 'Do not balance this budget on the backs of the poor.'"
Hundreds of students and trade unionists from across North Carolina mobilized for the protest. The program also featured speeches from workers who won union recognition at the Smithfield processing plant and UE union members who occupied their factory in Chicago.
Dr. Barber and other leaders of the HK on J movement urged the thousands in attendance to keep building the grassroots movements for change. In particular, the speakers emphasized the importance of building as broad a movement as possible to oppose massive cuts to social services and people's needs.
#RaleighNC #CapitalismAndEconomy #PoorPeoplesMovements #Labor #News #HKOnJ #NAACP #BlackLiberationMovement #BudgetCrisis #capitalistCrisis