Lines Drawn over SB1070 in Arizona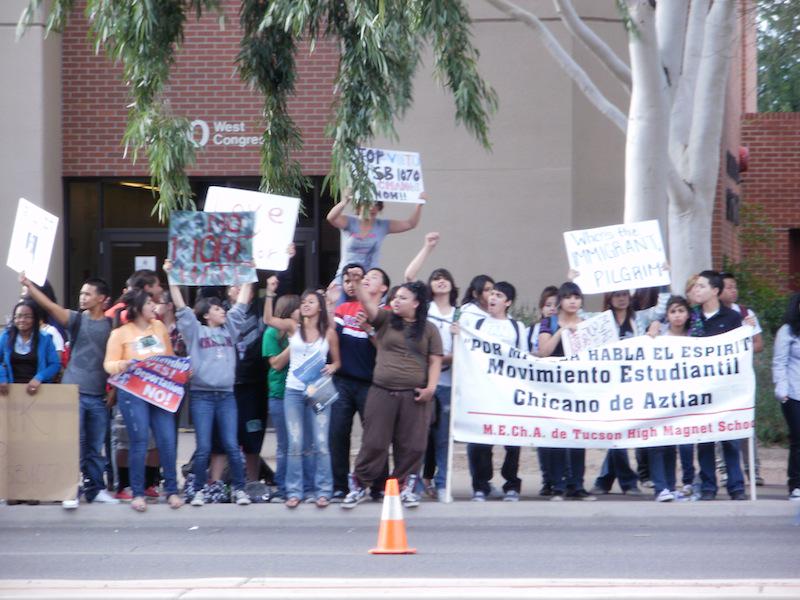 Tucson, AZ – "This law is unwise. This law is stupid, and it's racist. It's a national embarrassment…if I were a Hispanic person in the state, I would be humiliated and angered."
These are the words of Pima County Sheriff Clarence Dupnik, announcing in Tucson April 28 that his department would not be cooperating with SB1070. Dupnik's statement is an indication of how polarized Arizona has become, with the polarization reaching even into law enforcement circles. An hour and a half north of Tucson, in Maricopa County, where the state capitol of Phoenix is located, is the home of Sheriff Joe Arpaio – the notorious racist who has become the face of anti-immigrant abuse in the state.
SB1070 has become a nightmare for a state that is inundated with financial problems. Already three lawsuits have been filed to stop SB1070, including one by Martin H. Escobar, a 15-year veteran of the Tucson Police Department. According to Escobar, SB1070 violates his First, Fourth, Fifth and Fourteenth Amendment rights. Escobar says the city has no authority to enforce immigration law and based on his experience; it would be impossible to comply without employing racial profiling. The suit also seeks to stop state legislators from passing other laws dealing with immigration.
Tucson City Councilwoman Regina Romero has asked the city to file an injunction against SB1070. Romero notes, "In the midst of major state budget deficits the Republican-led legislature instead focuses on dehumanizing minorities. Our law enforcement resources should be utilized against violent crime break-ins, and general public safety, not in random searches for undocumented people that opens the door to racial profiling."
Gov. Jan Brewer signed SB1070 into law on Friday, April 23. Shortly after that, a boycott of Arizona was launched. The state has already begun to suffer the consequences, with hoteliers around Arizona reporting a wave of cancelations. At an April 24 rally in Tucson, Southern Arizona Congressman Raúl Grijalva put the blame squarely on Governor Brewer and the law's supporters: "Jan Brewer effectively set the state's economic clock back…Brewer…imposed sanctions on herself and this state."
SB1070 would give state and local law enforcement the authority to detain and investigate anyone they suspect of being in the U.S. without documentation, whether or not they are suspected of any other crime. Failure to have proof of citizenship may result in arrest and a $500 fine. In Arizona, being Latino and speaking Spanish is all that is needed to be considered 'suspect.' The legislation also confers citizens with the power to sue any state agency they think is not enforcing the law aggressively enough.
Although the law still has three months before it goes into effect, Arizonans have already seen a spike in racial profiling and police actions. On April 15, just two days after the law was passed in the legislature – and before it was actually signed – 800 agents from Immigration and Customs Enforcement undertook the largest operation in their history, with the cooperation of Arizona state and local, as well as Mexican, law enforcement.
The raids focused on neighborhoods in Nogales, Tucson and Phoenix and involved random detentions of Latino community members riding public transportation and shuttle services. Since the law was signed, there have been several reports of law enforcement stopping and questioning persons to demand immigration status. An Arizona health care professional told Fight Back! that she witnessed two of her clients being detained by local law enforcement and turned over to the Border Patrol simply for sitting in a parked car – and looking Latino. Neither was here illegally, but they were arrested and must now go to court to prove their status.
In Phoenix, KTVK news televised an interview with a trucker who was apprehended and asked for proof of citizenship. His driver's license and social security card were not sufficient, even though the Chicano man had been born and raised in the United States. The man was cited and now must prove his case in court.
Ted Prezelski, a planner for the Pascua Yaqui Tribe and former state Representative, spoke about the situation regarding law enforcement in Tucson. "We had a meeting with the TPD. Unfortunately, there are cops taking sides. Everybody above the rank of a sergeant is against it. The problem is that there are some on the streets who want to take advantage." In Phoenix and Maricopa Country, the largest metropolitan area in the state, the situation is even more serious. Not only is the sheriff's department under the direction of Joe Arpaio, but the author of SB1070, Russell Pearce, is a former Maricopa County Sheriff's Deputy.
The passage of SB1070 has mobilized and radicalized both its supporters and those who oppose it. On April 28, the Arizona House passed a bill against the Tucson Unified School District's (TUSD) ethnic studies program, a program that was won through popular struggle over a decade ago.
At an April 24 rally, TUSD school board member Adelita Grijalva spoke about other legislation planned by the right wing that would require teachers and school officials to become enforcers of immigration law: "SB1097 would require schools to check student immigration status. HB2833 would require that they compile data on all students who could not provide documentation. HB2281 attacks ethnic studies at TUSD. We have people up there [at the state capitol] focused on one district…they should be focusing on how to fund state schools!"
The real groundswell, however, has been anti-racist. There have been almost daily demonstrations throughout the state against SB1070 and thousands of middle and high school students have participated in walkouts.
Arizona activists are clear that this is not just a struggle for the state, but for the whole country. The feeling in the streets is that anti-immigrant legislation in Arizona may be the cutting edge of racism in the U.S., but that it is not an isolated phenomenon. In fact, as many as ten other states are considering passing copycat legislation.
Arizonans are calling for massive solidarity from the rest of the nation in two major forms:
demand that the federal government not cooperate with SB1070; and,
a boycott of Arizona.
U.S. Congress Representative Raul Grijalva said, "We have insisted on non-cooperation by the federal government with this law. Immigration is a federal, not a state, law." He went further to elaborate what non-cooperation means: not accepting detainees, not processing cases brought about by enforcement of SB1070 and legal action by the Attorney General's office to stop the law from going into effect.
Readers are encouraged to contact the White House in support of this demand. The Obama Administration can be reached by phone at 202-456-1111 or 202-456-1414, and by FAX at 202-456-2461. An email can be sent by visiting http://www.whitehouse.gov/contact.
There have been many calls coming out of Arizona for a boycott of the state until SB1070 is repealed. These have centered around three basic components:
Do not attend and do not hold any conventions or conferences in the state of Arizona
Do not take vacations in Arizona or support its tourist industry (The following are exempt: visits to family and close friends or to participate in immigrant rights solidarity activities.)
Do not patronize the Arizona Diamondbacks baseball team, a prominent symbol of Arizona and a major contributor to SB1070 supporters.
Representative Grijalva urged activists to "Raise the dial on the intensity, the urgency and our commitment." He added, "I'm terribly optimistic. Look at this crowd! It's a cross section of Arizona and the nation…We're here because we know this can be turned around…It's a good exercise in democracy…We're not going anywhere."
Isabel Garcia is a prominent immigration lawyer and the founder of the Coalición de Derechos Humanos (DH). For many years, DH has kept a count of the numbers of those who have died after being forced to cross the desert because of border militarization. She points out that the increased immigration of undocumented workers stems from a forced migration because of NAFTA. The neoliberal trade agreement has led to the destruction of family farms and rural communities throughout Mexico and resulted in a 60% rise in immigration from Mexico to the United States.
Garcia told the April 24 rally, "NAFTA led to the displacement of Mexican farm workers which was…followed by the militarization of the border." She then traced the rise of anti-immigrant racism to the adoption of SB1070. Garcia served notice on the state, perhaps thinking of the hundreds of those who die crossing the border each year. She explained the source of the movement's power and commitment: "In the end, we are going to resist, make no doubt about it….because we are acting out of love."
#TucsonAZ #ChicanoLatino #RacismInTheCriminalJusticeSystem #CoaliciónDeDerechosHumanos #SB1070