Jacksonville protests racist grand jury decision to not charge killer cop in Ferguson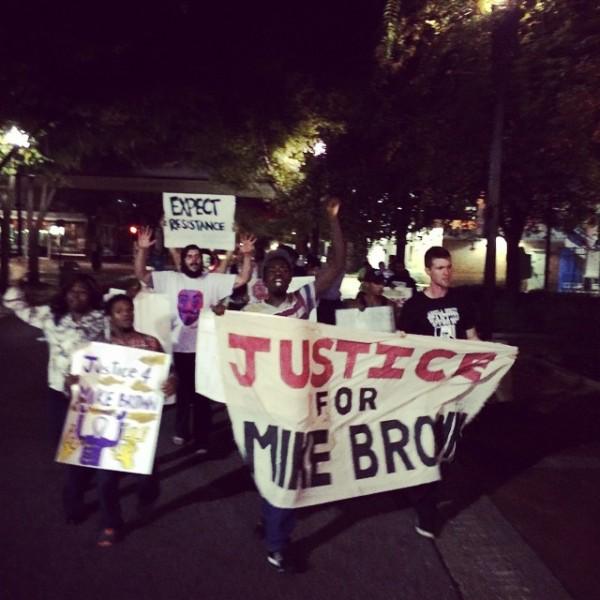 Jacksonville, FL – More than 30 people from the Jacksonville community gathered in Hemming Plaza downtown here, Nov. 24 to protest the Ferguson grand jury verdict and demand justice for Michael Brown.
Organized by the Jacksonville Progressive Coalition (JPC), the protest began a little over an hour before the verdict was announced. Within minutes of arriving, the crowd was forced out of the plaza by Jacksonville police officers, who claimed the park was closed. Undeterred by the police intimidation, the group regrouped on the sidewalk around the plaza and began chanting, "Michael Brown means we've got to fight back!"
Protesters carried signs reading, "Hands up! Don't shoot!" and "Justice for Michael Brown." As the time of the verdict announcement grew closer, more people arrived and passing cars honked in support.
Several speakers addressed the protest to talk about the case in Ferguson and its relevance to Jacksonville. Fernando Figueroa, an organizer with the Jacksonville Progressive Coalition, said, "What happened to Michael Brown in Ferguson happens to young Black men in Jacksonville constantly." Figueroa continued, "We know that this injustice system will never win justice for the victims of racist violence and police brutality. Justice doesn't come from the courts, but from us marching in the streets."
After hearing from several speakers from the Jacksonville Progressive Coalition and the community, protesters gathered around a bullhorn to listen to the announcement. Holding their rally signs close, the crowd gasped as they heard the announcement that killer cop Darren Wilson would not face any criminal charges in the killing of Brown.
When the verdict was announced, protesters held four-and-a-half minutes of silence, which the Brown family requested to symbolize the four-and-a-half hours the Ferguson police left Michael's body in the hot midday sun after he was killed. Immediately after, the crowd broke into chants of "No justice! No peace! No racist police!"
The crowd marched around Hemming Plaza, drawing some more support from passing cars. As the event drew to a close, protesters vowed to continue building the movement to win justice for Michael Brown and stop racist police brutality.
#JacksonvilleFL #PoliceBrutality #JacksonvilleProgressiveCoalition #MichaelBrown #Ferguson #DarrenWilson