Editorial: We Demand Justice!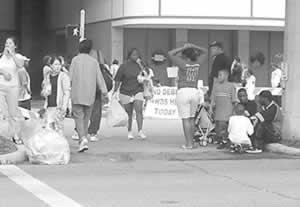 The following is a special editorial from Fight Back! that's being distributed as a leaflet among the evacuees in Houston, Texas.
We demand justice for the people in Houston and others scattered across the South by Hurricane Katrina. Hurricane Katrina demonstrates the power of nature and the weakness of U.S. society. Not all of the disaster is natural – much of it is manmade and preventable. In fact, it is an unnatural disaster.
For poor folks, for Black folks, there was no evacuation plan. Those who could not evacuate could only turn to each other and hold on for dear life, hoping for the best. But what we have gotten all along is the worst. While FEMA claims it 'could not reach the Superdome,' CNN was able to broadcast from the scene. Two days after Katrina passed, FEMA turned away three semi trucks of water! All this while mothers watched their babies die of dehydration. Those of us watching on TV wept and raged at the disaster unfolding before our eyes.
The survivors of Hurricane Katrina are the victims of a careless and hard-hearted government. More than that, Bush, in the face of an extreme emergency, did nothing and acted with blatant disregard for working-class people, mostly African-American. Bush's failure to respond is criminal. President Bush and his administration must be held accountable. While Bush stayed warm and dry on his vacation, New Orleans' people were left to tread water, drown and die by the thousands.
At the Superdome, there was no relief plan and there was no emergency response. The people of New Orleans remained calm and determined to survive the worst disaster in U.S. history, while Bush hesitated and delayed. The death toll from this disaster promises to be three times that of the events of 9-11. George Bush and his administration are responsible.
Some say, "This is not the time for blame." But there is plenty of blame to go around. The failure is not just one of Democrats or Republicans — the burden has to fall on the people with the resources to take care of business, and that is the Bush administration. Now, over a week later, Army paratroopers in inflatable boats are still rescuing the stranded. The facts are clear: The response was too little and too late because the rich who run the U.S. system, the millionaires and billionaires who profit from the system, do not care about poor, working-class people, especially if they are African-American or non-white.
It has long been known that a disaster of this magnitude was possible. Congress refused to spend money to protect the low-lying and poorest parts of the city. This is not "a mistake." It's a crime. The racist attitude of FEMA has not changed, even with all the outrage. On Sept. 7 there was a report from Bogalusa which showed guards with pallets of water at the airport. You could have some if you get there, but not a single bottle was delivered to 'the other side of the tracks.'
We demand that the government do whatever it takes to provide meaningful aid to the victims of this crisis – now! The priority must be placed on those who have the greatest needs. We must turn our collective grief into a storm of anger. Help is needed. And so is justice.
We also demand that:
Bush be held accountable.
We need real and immediate relief that allows us to live with dignity. The includes decent housing until we can return to our homes.
We want respectful treatment from government at all levels.
We demand that our housing be repaired or we that we get new homes and apartments – before one cent of assistance is given to any big corporation.
Our property needs to be protected. Government should not use condemnation or eminent domain to steal our land.
#UnitedStates #StPaulMN #CapitalismAndEconomy #PoorPeoplesMovements #Editorial #Editorials #AsianNationalities #AfricanAmerican #ChicanoLatino #HurricaneKatrina #Houston #disaster #unnaturalDisaster #FEMA #Superdome #Bogalusa #BushBeHeldAccountable