Gaza support demonstration in Tallahassee electrifies campus
Tallahassee, FL – The Palestinian national flag waved high above Integration Statue in the afternoon breeze, Nov. 19. Below it, about 50 people gathered at Florida State University (FSU) for a protest demanding an end to the Israeli siege of Gaza. Students from FSU and Florida Agricultural & Mechanical University (FAMU) joined community activists in a march through the busiest parts of campus to stand with the Palestinian people.
Energetic chants of, "Free, free, Palestine" and "Gaza, Gaza, don't you cry. Palestine will never die," echoed across Union Green as students leaving class stopped to watch the demonstration. Members of Students United for Justice in Palestine (FSU Chapter), Dream Defenders, Veterans for Peace, and the Center for Participant Education spoke, chanted and distributed leaflets as the protesters chanted for an end to the bombing of the Gaza Strip.
Regina Joseph, a student activist at FSU, explained the Israeli siege, saying, "The military occupation in Gaza is a testament to how far the U.S. backs Israeli state apartheid and the dehumanization of Palestinians." Joseph called on more students to join the solidarity movement, adding, "It's important for us to show solidarity with the innocent civilians killed in recent attacks in Gaza and their families because their voices continued to be drowned out. I won't let my silence be complicit in the murder of Palestinians."
After hearing a few speeches about the continued Israeli occupation of Palestine, the protesters marched through the student union holding signs and chanting, "From the river to the sea, Palestine will be free."
The march stopped briefly at Woodward parking garage to watch two protesters drop a massive red banner off of the top floor that read, "No to Israeli occupation," along with several accompanying demands. Passing cars honked in support of the protesters' message.
Mohammad Al-Kadah, a student at FSU and a member of Students United for Justice in Palestine, spoke about the importance of marching in solidarity with the people of Gaza. He said, "I know we all see the people suffering in Gaza and it hurts me seeing people ignoring what is going on over there. Instead of arguing who is right or wrong, it's more effective for all people, regardless of race, religion, and personal beliefs, to stand up for what is right." Student leader Al-Kadah continued, "Children and families are dying in great numbers. The least we can do is show our sympathy for those who have died by showing our support."
Returning to Integration Statue, protesters observed a moment of silence for the more than 100 people killed since the siege started. Some hecklers from Noles for Israel, the pro-war Zionist student group on FSU's campus, taunted the protesters and broke the moment of silence. Nevertheless, the protesters stood united and ignored their callous remarks.
Afterwards, interested students remained around Integration Statue talking to the pro-Palestinian organizers and asking questions.
Musa Darwish, a student at FAMU, spoke about the importance of solidarity actions in the U.S., saying, "I think that if we keep doing events such as this one to raise awareness, this is a way we can show solidarity towards Gaza." On the conversations taking place afterward, Darwish stressed the importance of publicly discussing the conflict in Gaza. "Opening up dialogue can help lead to a peaceful resolution, and that is the bottom line that I am after as a Palestinian – peace."
Many expressed enthusiasm for the upcoming Students United for Justice in Palestine meeting on Nov. 28. At the meeting, activists and organizers will plan future solidarity actions with the Palestinian people and Gaza. Students are organizing to end U.S. funding for Israeli occupation.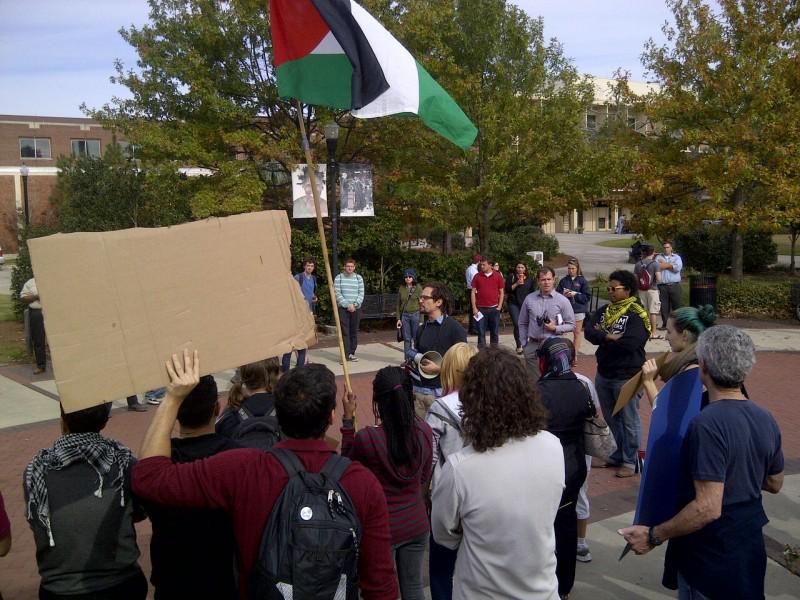 #TallahasseeFL #Palestine #attacksOnGaza #FloridaStateUniversity #2012IsraeliSiege #StudentsUnitedForJusticeInPalestine #MiddleEast