Chicanos to protest ICE and police attacks on May Day in Boyle Heights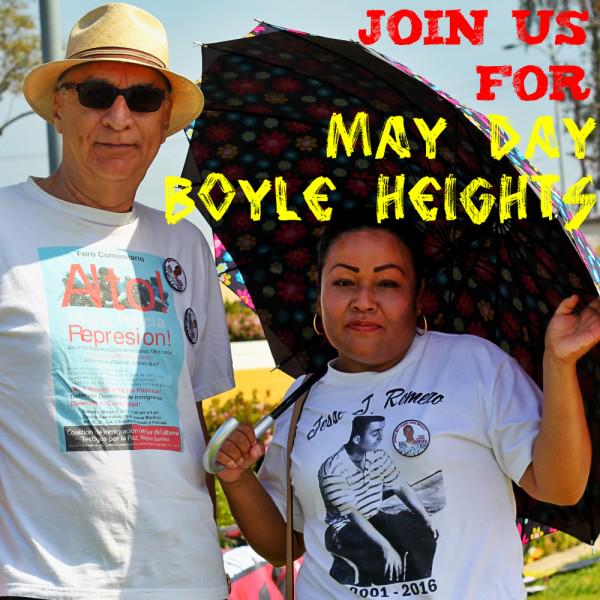 Los Angeles, CA – In the mainly Chicano Boyle Heights neighborhood, families and organizations will protest Trump's ICE attacks and police killings by marching on May Day. The May Day march will start at 3 p.m. at the corner of Cesar Chavez Boulevard and Evergreen Street. Proceeding west on Chavez, the march will take place in the heart of Boyle heights. On Chicago Street, the march will travel south for a short rally at the corners of Chicago and First street at the LAPD Hollenbeck station to denounce the killings of Jose "Peruzzi" Mendez, Jesse Romero, and other youth.
High school student and president of MEChA at Roosevelt High School Edna Galaviz will speak about how Trump's orders on ICE impact students. Estela Rodriguez, mother of Edwin Rodriguez, killed Feb. 14, 2016 by East LA sheriffs, will speak against the Trump orders giving police more power to suppress by supporting a "blue lives matter" call. Josefina Mendez, mother of Jose "Peruzzi" Mendez, a Mexican undocumented youth killed by LAPD on Feb. 6, 2016 will denounce the current deportations taking place in Boyle Heights.
The march is being organized by the Centro CSO (Community Service Organization).
"Boyle Heights has a rich history of Chicanos locking arms and demanding equality, liberation, self-determination, and an end to national oppression," says Sol Marquez of FRSO. "May Day is a perfect time to look forward to revolutionary change, and for everyone who is against Trump's racist attacks to join us. The streets are ours, join us as we march and celebrate May Day."
Longtime immigrant rights leader Carlos Montes urges the community "to march and rally on May 1 in Boyle Heights, and to organize defense committees in each neighborhood to defend against ICE and police raids, arrests and brutality."
The May Day event is endorsed by Roosevelt HS abd CSULA Mecha, SDS PCC, Boyle Heights Neighborhood Council, Latino Equality Alliance, Lusito's Tortas, MORENA, Hermandad Mexicana, Eastside Greens, Parents United of Marianna Elementary School, CARECEN, NLG, Pro Uno, FRSO, United Teachers of LA, and Congreso Latino.