Chicago: Protest against racist legislation in Florida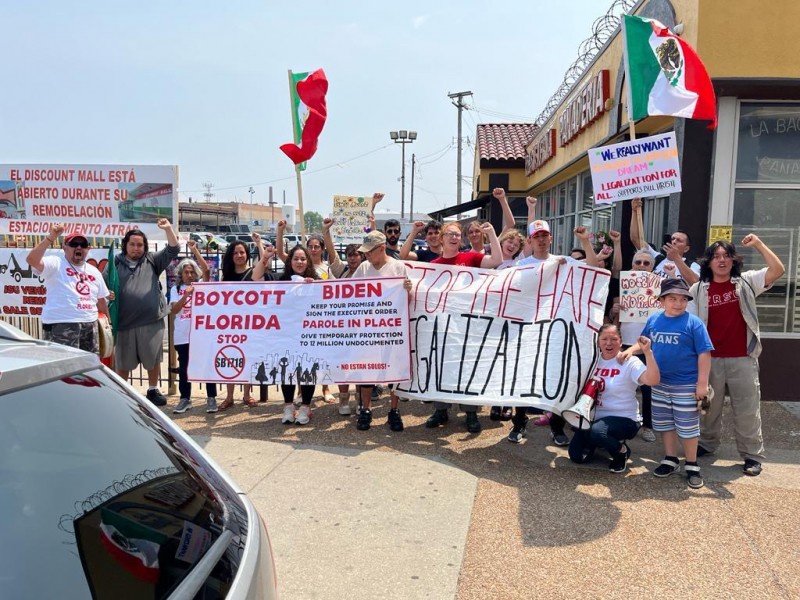 Chicago, IL – At the Little Village Arch on Chicago's 26th Street, 25 people took to the streets, June 18, and made it known to our community that our action is needed, in response to Florida's anti-immigrant legislation. People shared stories of previous movements, spoke their truth, stopped traffic, gave literature to those passing, and were supported by the 25th ward alderman.
On March 14, in Florida, Senate Bill 1718 was introduced. This racist legislation could turn countless undocumented workers into felons.
After the bill was passed, images of vacant construction sites, and fruit and vegetable fields where harvests remain unpicked and rotting began have been spreading across platforms such as TikTok. These job sites have been abandoned by people who fear the new bill's E-Verify requirements, which require private employers with 25 or more employees to use E-Verification that confirms whether someone is eligible to work in the U.S.
To make matters worse, because this is a new law that has been passed, the unclarity of it has an even higher negative impact on both the undocumented and documented people in Florida. For instance, the law has been interpreted to say, "someone they know (or should be known) is an immigrant who has not been inspected by authorities could be charged with a felony for human smuggling." Evelyn Wiese, someone who has practiced immigration law for many years, is not sure what the law means by "inspected," and further goes on to say that legislators have created a situation that could lead to tens of thousands of people being falsely arrested and possibly detained.
However, Chicanos and Mexicanos across the United States were not going to sit and do nothing while bills such as SB 1718 are being passed. A week of action from June 11-18 had participation from places like Minneapolis, Minnesota; Los Angeles, California; and Chicago, Illinois.