Anaheim protests racist police killings
Anaheim, CA – Hundreds marched on the Anaheim Police Headquarters, July 29, to protest police killings of young Chicano men. The protesters confronted the police with chants, shouts and banners denouncing these brutal and racist killings. The Anaheim Police Department (APD) has carried out a rash of killings this year, far more than previous years. Two people have been killed in the past week.
The protesters were met with a heavy, militarized police presence including horses, helicopters, armored cars and cops on rooftops with shot guns ready.
The family of Cesar Ray Cruz, killed by the APD in 2009, held up a banner demanding justice and a poster with the pictures of nine other men killed by APD. They also denounced the recent killing of Manuel Diaz. Diaz who was shot in the back and back of head on July 21 in front of the families of North Anna Street, a working class Chicano community. On July 24, the family of Manuel Diaz filled a civil rights violation lawsuit in U.S. Federal Court demanding justice and $50 million.
The demonstrators attempted to march on nearby Disneyland, but were blocked by the police. Many drivers going by the protest honked and waved to show support.
Many Chicano groups joined the demonstration, including Chicanos Unidos de Anaheim, Brown Berets, Partido Nacional de La Raza Unida and the Southern California Immigration Coalition, to name a few. The Occupy movement, along with socialist and anarchist groups also participated.
Carlos Montes and other veteran Chicano activists participated and spoke with the Cruz family to express their support and solidarity.
Orange County has a long history of racist attacks and practices against the growing Chicano community. The city developers have plans to expand the amusement park resort and some feel that they want to dislocate the large Chicano community.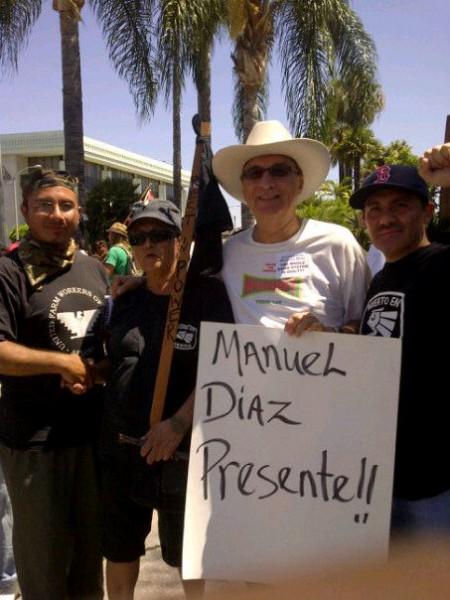 #AnaheimCA #ChicanoLatino #Racism #CarlosMontes #policeKilling #ChicanoLiberation